The mother line.

After defining the vision and mission, from the chosen strategy, it was clear that I always want to have two mothers lines. As one line in the course of time brings qualitatively inferior dogs, can I phase these out. I can continue , with the other line and try to find a new appropriate mother line.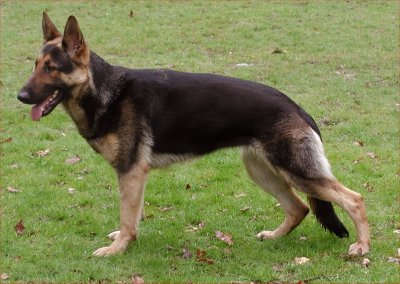 Gispy von der Schiffslache
After about 6 years rigorous selection, we finally have a bitch raised and trained which meets the quality requirements as defined in our philosophy: "Gipsy von der Schiffslache".She had all the qualities to meet the heavy KNPV police1 program. Moreover, she had so many qualities that she performed at the Dutch top KNPV dogs. She achieved a certificate PH1 met lof with 410 points without the "schijnaanval". Her last two national nomination contests she gained respectively 440 and 436 points (440 max)! Moreover, she gives us 2 exceptional litters (A and B litter). Unfortunately there were people jealous on this result and killed her in our kennel with poison at the age of 4 years. But they could not prevent that I built my first mother line.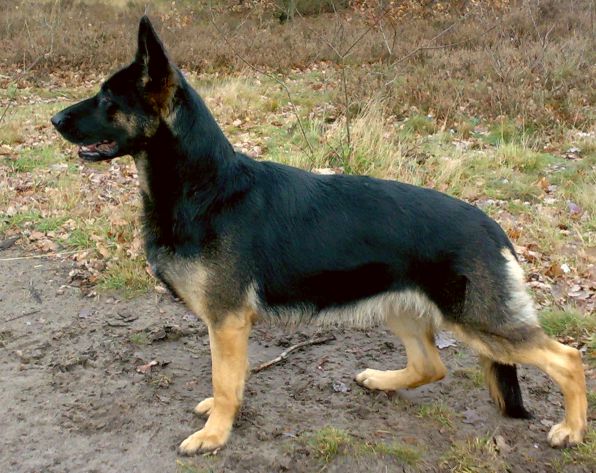 Meanwhile, I trained together with Theo Rottjers "Ouchie von der Schifflache". Also a very talented bitch, more than suitable for the heavy KNPV program. Ouchie have also had her top matches. She won her first KNPV PH1 trial (without Section 2) with 418 points out of 420 points and reached the first place in a particularly strong field. In October 2007, she obtained a certificate PH1 met lof with 425 points, only the "recall exercise" failed. She attacked the decoy even after I called her back 5 weeks in a row on the test site. The rest of the day was absolutely faultless!
Ouchie von der Schiffslache
Above bitches satisfy largely to high quality require of the KNPV and stand to the basis of our foresail programme.